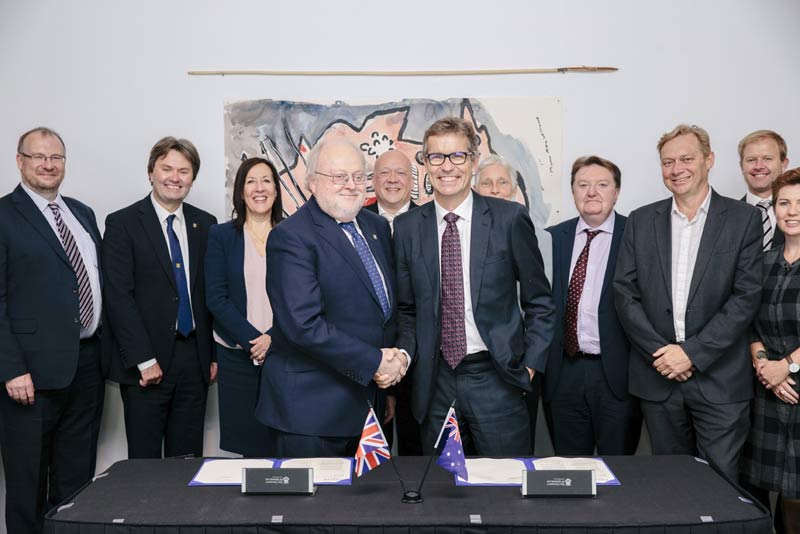 At the Universities of Exeter and Queensland we believe that partnership is key to seeking the answers to the most complex, global challenges – ranging from food and water security and political instability to ageing and mental health. Solving these problems requires interdisciplinary research spanning institutions, countries and even continents.
To deliver international solutions to global challenges, we are launching a pioneering approach to cross-continental research, creating an innovative new virtual research institute that will provide a forum for our world-leading academic staff to collaborate, bringing  fresh perspectives and expertise to bear on some of the toughest problems our world faces.
The QUEX Institute for Global Sustainability and Wellbeing will focus on the crucial inter-disciplinary themes of Environmental Sustainability, Healthy Ageing and Physical Activity and Nutrition. The QUEX Institute will undertake bold new research ventures investing in the next generation of researchers. We will create a continual flow of staff, knowledge and ideas between Exeter and UQ, building a cross-continental think-tank and publishing QUEX Policy Reports which will provide far-sighted, clear and practical policy advice, based on cutting-edge research, for policymakers around the world.
Nobel Laureate and former President of the Royal Society, Sir Paul Nurse FRS, has stated that the most important discoveries come from research that is "permeable and fluid, allowing the ready transfer of ideas, skills and people in all directions between sectors, research disciplines, the span of the research endeavor, and its potential beneficiaries".  The evidence backs this up. Where Exeter and Queensland collaborate, the impact of our work (measured by field-weighted citation impact score) is more than double the average of each institution.
Both institutions are investing substantially in this multi-million pound partnership, creating the conditions for novel and innovative research, backed by first-class student experiences.  We are establishing a joint PhD programme which will enable students to access world-leading academic expertise at both institutions and to graduate with a PhD from both universities. This will nurture a cohort of the brightest and best new researchers from around the world who we will empower to take on the greatest global challenges.
There are many similarities between Exeter and Queensland and both are recognised as world-class institutions. Exeter is a member of the Russell Group of leading UK universities and Queensland forms part of the Australian Group of Eight (Go8). We also share common values and, like all good partnerships, the QUEX Institute is based upon complementary strengths and shared ambition. Exeter will bring our global-leading expertise in health, disease and dementia research from both its Medical School and flagship Living Systems Institute, as well as its pioneering environmental research carried out at the Environment and Sustainability Institute. This is in perfect balance with UQ's world-leading reputation in health and genetic, environmental, and mental health research.
With this partnership, Exeter and Queensland, two of the world's leading universities, are taking bold steps in solving the most pressing problems of our times.