The energy market needs new entrants – not just easier switching
In recent weeks it's been almost impossible to pick up a newspaper or watch the morning news without encountering a headline discussing energy prices, green levies and the behaviour of the large energy suppliers.This debate has been gathering momentum for many months, with a number solutions put forward to tackle record household energy bills; including promoting the benefits of switching suppliers, simplifying tariffs and 'rolling back' various levies and charges. But whilst discussion of the causes of price rises has been vigorous, there has been a surprising lack of public debate on whether competition is actually delivering for customers and what deeper reform might be required.
Clearly simplifying the switching process, requiring greater transparency in bills and having the difficult conversation about which costs should be met through customer bills and which through general taxation, are likely to benefit (some) consumers.However this approach risks focussing the debate on the role of consumer switching as a panacea for tackling steeply increasing prices, at the expense of a more complex analysis of competition and market structure.
A central plank of the Government's current response to high bills has been to promote the benefits of switching supplier, largely based on the fact that people could save up to £200 per year if they switched. Currently, around 15%-17% of gas and electricity customers switch each year. However, it's likely that a small number of customers – who regularly switch – account for many of this number as a 2011 Ipsos MORI study found that 59% of UK customers say they have never switched gas supplier and 60% have never switched electricity supplier. While there may be some issues verifying the exact numbers, since switching behaviour may be underreported, a very large number of people plainly don't regularly switch supplier.
Yet, despite domestic energy bills steadily increasing over the last few years, and the benefits of switching being widely publicised, the proportion of customers switching actually decreased between 2006 and 2013 (as the below figure shows), demonstrating the apathy and distrust many customers feel towards energy suppliers.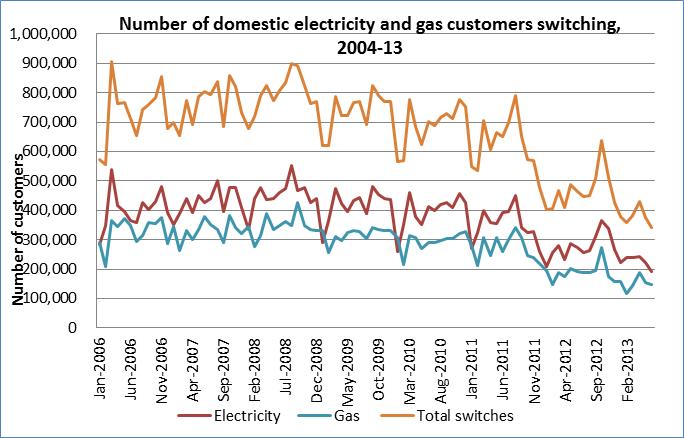 Source: https://www.gov.uk/government/collections/domestic-energy-prices
Recent proposals to simplify tariffs, make switching easier and create tougher rules for fixed term energy deals, may go some way towards encouraging people to shop around, but conversely some of the Retail Market Review measures – such as the four tariff cap – may be counterproductive, causing suppliers to withdrawn innovative tariffs including those aimed at older customers.
On the face of it improving customers' ability to change supplier and choose from a range of tariffs (albeit with 6 large suppliers dominating 97-98% of the market) does support a level of competition. However small suppliers still only account for about 3% of the market and it's likely that a large number of 'sticky' customers, who have never or rarely switched, will remain under current arrangements. This raises questions both the limits of switching pressure and the role of new entrants in promoting further competition. As Caroline Flint pointed out recently, tariffs must be simpler and fairer but even if people switch problems with competition still mean they won't get a good deal.
In fact, in 2012 IPPR published a report highlighting that whilst some drivers of price increases are harder for energy companies to control (such as wholesale gas prices or the cost of government levies), market competition should act to keep operational costs, profits, and therefore prices, down (operation costs and profits account for 15% of the average bill – almost double the proportion of green and social levies). But the evidence suggests that this is not the case and the report concluded that a lack of competition in the energy supply market is resulting (in part) from too much focus on the assumption that vigorous customer switching will help to minimise price increases.
In reality competitive pressure – and it's translation into lower prices – needs to come from two sources; pressure from regular switchers and crucially, competition between suppliers themselves.Both the dominance of the Big 6 and their technique of holding on to customers by offering the lowest prices to regular switchers whilst keeping those deemed unlikely to switch on less competitive tariffs has been well documented, so any effective action to increase competition between suppliers must focus on stimulating the market for new entrants, promoting innovation and bringing new business models into the market.
Suggestions that problems in the wholesale energy market are stymying the ability of new entrants to emerge have been widespread for many years and numerous reviews have considered some elements of the problem. Indeed current reviews of market liquidity and cash out arrangements, and initiative such as License Lite, may go some way to creating an environment more conducive to new entrants. As might the debate surrounding the reforms suggested by Ed Miliband as part of Labour's pledge to freeze electricity prices for 20 months. However real change to the ability of new entrants to come into the market has been painfully slow.
Ofgem themselves recognise the link between an illiquid wholesale market and a lack of retail competition and are currently consulting on a new Secure and Promote license condition which aims to improve market liquidity. However such proposals have been discussed for many years, with the focus on individual issues rather than assessing barriers to entry in their fullest sense. Things also moved on slightly earlier this month, when Ed Davey announced yet another energy market investigation – the 18th since 2001! This is good news but it remains to be seen how and if the review will result in real change.
Although it should be acknowledge that increased competition is likely to only go part way to solving the problems in our energy system the Government should also be clear that better competition in the energy market doesn't just mean piling the onus on customers to switch between equally disliked energy suppliers.There also there needs to be real challenge to the current oligopolistic system.To deliver this co-ordinated action should take place to remove barriers to new entrants and create and more dynamic and innovative energy market.
Jess Whiting is a PhD researcher in the Exeter Energy Policy Group http://geography.exeter.ac.uk/staff/index.php?web_id=Jessica_Whiting