Air Traffic Controls? Climate Action and Expanding 31 UK Airports
By Calum Harvey-Scholes, Energy Policy Group, 30th of July 2021
This blog series describes the mismatch between the climate ambition of the UK national and local governments on the one hand, and plans to expand high carbon aviation infrastructure across the country on the other. This first piece sets out the paradox and some contradictory decisions. The rest of the series will examine the policy and governance causes of this counter-productive state of affairs and how they might be resolved.
The Paradox
The country faces a paradox: With emissions from aviation already 124% above 1990 levels, UK air traffic is expected to grow substantially over the next three decades at the same time as the country rapidly cuts greenhouse gas emissions to 'net zero' by 2050. Most UK airports have an expansionist agenda but the Government, despite ambitious carbon reduction targets, has no target or plan for carbon reduction from aviation. This pattern of inconsistency between climate and aviation action at the national scale is echoed within local governments: more than half of local governments have declared a 'climate emergency', committing to more ambitious climate targets than national government, yet some of these own significant shareholdings in airports around the country. This blog describes the unpredictable and changeable policy decisions resulting from institutions negotiating this confusing landscape.
National Climate Ambition and Airport Expansion
The UK Government has a target to cut greenhouse gas emissions to net zero by 2050, including a recent commitment to a 78% reduction by 2035. Based on the 2050 target, the Committee on Climate Change (CCC) calculated at the end of 2020 that there must be no net increase in airport capacity in order to stay within safe carbon budgets.
Meanwhile, at least 31 airports in the UK have published expansion plans over the past few years. Earlier this year, analysis by AEF using data from the Department for Transport showed that these would, collectively, blow the UK's aviation carbon budget – in fact, more recent analysis from the New Economics Foundation suggests that the carbon emissions from some of these would be two to eight times higher in reality. Although talk of expansion by many of these airports has reduced during the Covid-19 pandemic, some have pressed on and none have officially abandoned expansion plans. The table below summarises the local governance around 31 airports with plans for expansion.
Table 1 UK Airports with expansion plans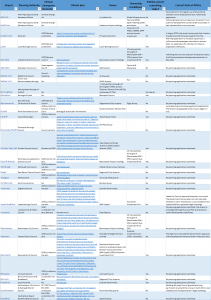 Clicking on the image above will expand this table. Alternatively, a larger, interactive version of this table can be found in this online spreadsheet.
Local Climate Ambition and Airport Expansion
Climate Emergency Declarations
Hundreds of local governments across the UK have now declared a climate emergency and some of these have now developed a climate strategy. Many of these strategies explicitly exclude air traffic emissions, and when included figures reflect an estimate of how much local people fly, not all emissions from the local airport. As such, these local strategies tend to ignore the carbon impacts of local airports.
Local Planning Consent
Local government plays an important role in the approval (or rejection) of new airport infrastructure in the UK. Table 1 shows that 23 of the 29 local planning authorities with the power to approve airport expansion proposals have declared a climate emergency. Alarmingly, Leeds City Council and Eastleigh Borough Council (by Southampton) recently approved a new terminal and a runway extension, respectively, despite both having declared a climate emergency.
Airport Ownership
11 of the airports in Table 1 are majority owned by UK local governments, and another (Birmingham Airport) is 49% in public hands, meaning that local governments are, by proxy, working proactively to expand airports. Of the local governments with collective controlling stakes in the UK airports with expansion plans, all except Teesside Combined Authority have declared a climate emergency.
As a shareholder, a local government is bound by fiduciary duty to seek maximum returns on its investment. For an airport, this means maximising use of the airport's capacity, i.e. maximising air traffic. This fiduciary duty presents a conflict of interest with climate action plans.
Case Studies
Stanstead Airport
Stansted Airport shows a decision changing within local government before being overruled by a national government agency. Although previously approved, following a change of administration in 2019, the airport's planning application to raise their annual passenger cap was rejected by the local planning authority, Uttlesford District Council, on grounds that expansion is incompatible with climate ambitions. The airport appealed this decision to the Planning Inspectorate (a national government executive agency) who, following an inquiry in 2021, overturned the local government's decision on the basis that the majority of the climate heating emissions are a national responsibility and that when considered at such a scale they are relatively inconsequential in any case being unlikely to "jeopardise" emissions reductions obligations. The planning inspector also dismissed the non-CO2 emissions as "matters for national government" as "there is currently no specific government policy regarding how they should be dealt with". The airport is majority owned (65%) by 10 borough councils in Manchester, all of which have declared a 'climate emergency'.
Leeds Bradford Airport
Privately-owned Leeds Bradford Airport has plans for more early morning and late evening flights along with a new terminal which will enable it to serve 7 million passengers a year, up from 4 million at present. Following a detailed planning enquiry, Leeds City Council's Planning Committee approved the proposed expansion in March 2021. Central Government, in the form of the Ministry for Housing, Communities, and Local Government (MHCLG), then announced that they were reviewing whether or not to 'call in' the decision and hold a public inquiry, and the deadline for this decision has been extended with no clear timescale. As mentioned above, Leeds City Council has declared a climate emergency and committed to 'net zero' emissions across the local area by 2030.
Southampton Airport
In July 2019, Eastleigh Borough Council declared a climate emergency, and committed in October that year "develop a plan for how the Borough of Eastleigh could achieve carbon neutrality by 2030". Spanish and Australian-owned Southampton Airport sought permission to extend its runway by 164 metres in order to accommodate larger planes, attracting more airlines and increasing traffic. In March, Eastleigh Local Area Committee (responsible for planning) rejected the runway extension due to concerns about direct climate (from increased air and road traffic) as well as noise, before a full council meeting in April, at which nearly 200 people spoke for and against the plans, overruled the decision approving expansion. The Secretary of State at MHCLG considered calling in the decision. Eastleigh issued planning permission in June stating that the deadline for a decision from MHCLG had passed.
A state of contradiction
The evidence presented here demonstrates a disjuncture between airport policy and climate policy which is leading to policy decisions which are inconsistent and often contradicted by different levels of authority. Nationally, climate objectives are inconsistent with the expected growth in GHG emissions from air traffic. Local governments are a cog in this rudderless national framework but are also struggling to marry their own climate commitments with other interests such as airport ownership.
The next blog will turn to the national policy framework and how a failure to specify emissions reduction targets or clearly assign responsibility for achieving them is driving these contradictory decisions.