Less an energy strategy, more a bad student assignment
By Bridget Woodman, Energy Policy Group, 8th of April, 2022.
The end of term means that it's marking time at universities.  At Exeter we have very strict rules about giving feedback within a three week deadline.  So, how to deal with the dilemma of wanting to comment on the government's new Energy Strategy while also doing the marking?  Simple.  I'll mark the Energy Strategy.
These are the marking criteria that we use for a piece of policy analysis, which seem entirely appropriate to apply to the Strategy.  We used a 'notched' marking scheme, which, while it's a bit of a sledgehammer approach, does at least provide clear requirements for the mark awarded.
For reference, here are the marking schemes which we use (click on to expand):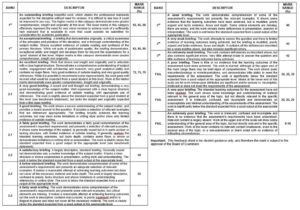 We have to structure our feedback under three headings before giving an overall mark:
Good points
Areas to work on in the future and how to improve them
General comments
I'm going to assume that the 'requirements of the assessment' are addressing the basic trilemma or balancing security, affordability and providing low carbon energy.  So here goes …
Good points:
Clearly written
You've shown good awareness of some recent policy commitments, particularly the Budget announcements on energy efficiency and the publication of the Heat and Buildings Strategy.  However, I would expect you to have added to these given that you recognise how central they are to contributing to affordable energy.
Good commitment to continued development of the offshore wind sector, and also to the production of hydrogen.  However, it would have been useful to discount the production of blue hydrogen – how might using gas to produce it help deliver carbon commitments or ensure that has remains affordable for those who currently rely on it to heat their homes?
Well presented, though normally with an announcement of this importance I would anticipate that you'd go to the trouble of producing a PDF document rather than just presenting it as a webpage.  This would allow the reader to refer to particular page numbers and navigate the document more easily.  However, I appreciate the fact that html allows people to cut and paste the test more quickly.
Good to acknowledge your much delayed Strategy and Policy Statement.  However, submission of this piece of work is extremely late, and you should be aware that its mark will be capped as a result.
Areas to work on in the future and how to improve them
While you have considered a lot of different options, you haven't addressed the issues of affordability, security and low carbon energy in the sophisticated way I would expect of you.
The most striking thing about your strategy is the announcement of a rapid expansion of the nuclear power industry.  The weight you give this goal isn't however supported by any evidence to support it.  For example, I would expect some sort of Impact Assessment (IA) here, as is normal with other announcements of this type.  The IA should consider the cost implications of a large nuclear power programme – what sort of costs are you expecting to fall on consumers and taxpayers as a result of your Regulatory Asset Base funding model and willingness to grant investment funds to drive the early stages of the development of Sizewell C?  How might this play out if the nuclear projects go over budget or aren't delivered on time, as we are seeing with Hinkley Point C?  How might this compare to other low carbon electricity options, where as you recognise, costs are falling?
In addition, the IA should assess the environmental impacts of a new nuclear programme, particularly in the light of the fact that the UK has not found a 'solution' to the nuclear waste that has already been created, let alone what will come about as a result of such a significant expansion of the industry.
The same lack of attention to environmental impacts is apparent in your commitment to continued development of North Sea oil and gas reserves as well as onshore shale gas.  What scale of emissions might arise as a result?  And what might happen if your preference for implementing Carbon Capture and Storage doesn't prove technically or economically viable?  If we continue to develop fossil fuel reserves, what are the implications for the legal commitment to be net zero by 2050 – what will the impact be on other sectors to compensate for new fossil fuel emissions?  Your presentation of this issue is currently incomplete and needs much more evidence to justify it.
Overall the lack of detail given to these two areas means that I am unable to access the accuracy of the statements you make.  To achieve a better mark, you must provide evidence and a clear justification to support your argument.  At the moment, the Strategy shows no engagement at all with scholarship and research, as demonstrated by the lack of references.
You recognise the relatively low costs of onshore wind and solar.  However, you don't include any firm targets for deployment of these technologies, or any detail on your plans to enable greater deployment.  Your treatment of these technologies is superficial and outweighed by the attention you give to oil, gas and new nuclear.  Given that you acknowledge the cost issue, this is a major shortcoming in the assessment as you don't consider how they might contribute to overall affordability.
General comments
The assessment required you to provide a strategy to balance energy security, affordability and low emissions of carbon dioxide.  While you have considered a range of technologies you have failed to provide evidence or references to show that this balance could be achieved by what you propose.  You clearly have some understanding of the sector, but there is a lack of detail relating to important areas such as onshore wind and solar compared to the attention you give to new nuclear power in particular.  As a result, the assessment is unbalanced, incomplete and falls far short of meeting requirements.  Overall then this is poor and doesn't really read like a coherent strategy.  Instead, it gives the impression that you've walked by the local Pick'n'Mix and panic bought all the out of date lime cremes*.
32/100
I really hate failing assessments, normally because it's apparent that the student has made an effort to deliver what they were meant to do but that they've misunderstood something important.  Sometimes though, it's unavoidable – the mark needs to reflect the level of engagement with the task, and to evaluate quality consistently across students in order to ensure that those who have produced good or excellent work are suitably rewarded.  The Energy Strategy has failed to deal with the basic requirements of addressing the energy trilemma and this is a huge failure in public policy making.  Must do much, much better.
*Or whatever flavour it is that is always left at the bottom of a selection box