By Adam Watt, Head of the Department of Modern Languages and Cultures, Professor of French & Comparative Literature. His most recent book, as editor, is The Cambridge History of the Novel in French (forthcoming with Cambridge University Press, March 2021).
Jean Racine, Michel de Montaigne, Pierre Choderlos de Laclos, Charles Baudelaire, Marcel Proust, Samuel Beckett. These are some of the authors I studied for the French part of my degree as a first-year undergraduate. They wrote in different periods, in different genres and were all challenging and interesting in their own ways. They were also all male, all white and all dead. Alongside them on the syllabus at the time, however, was a slim volume of poetry, which stood out from the other paperbacks I ordered in the summer before starting university: it was a different shape (almost square, like a school jotter, rather than uniformly rectangular like the others) and a sandy-orange colour, rather than the predominantly white and muted tones of the Folio, Flammarion and Minuit paperbacks. The book's appearance wasn't the only thing that was different about it. Its author was alive. And he was black.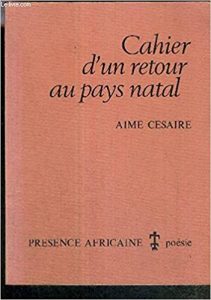 Cahier d'un retour au pays natal (Notebook of a Return to the Native Land, 1939) was the first and most celebrated work of the Martinican poet, intellectual and politician Aimé Césaire (1913-2008). My eighteen-year-old self was immediately confronted with a dimension of French culture and history of which until then I had had only a very vague awareness. My geography of mainland France was pretty good, but Martinique? Where was that? And how was it that they spoke French there? Suddenly it turned out that to study French wasn't just to immerse myself in the plays, essays and novels of long-dead white males who lived and died in the Hexagon. It could also mean plunging into a rich, vibrant and unfamiliar world that I had never previously encountered. Césaire's Cahier was poetry born of the first-hand experience of colonialism, written in a heady interweave of French and Creole on an island in the Caribbean, thousands of miles from the narrow, geographically limited ideas of 'France' and 'Frenchness' that I carried in my head at the time. This book was to be my first step in getting to grips with the history of the French colonial project, its impact and its legacies.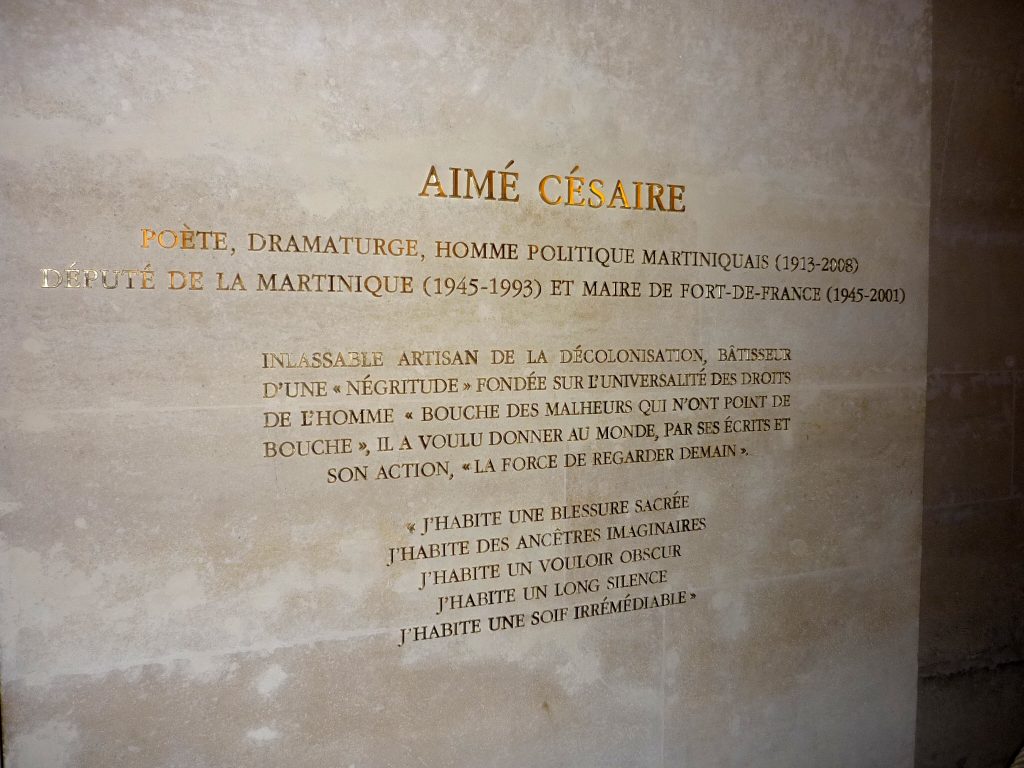 It's a history I am still learning about, one whose imprint on French culture is immense. With the advent of Black History Month I wanted to take the opportunity to offer a few thoughts about some of the black writers that have shaped my understanding of the complexity and multifariousness that gets hidden or occluded by the awkward term 'French literature'.
The last novel I read was La Cheffe: roman d'une cuisinière (The Cheffe: A Cook's Novel, 2016) by a contemporary writer, Marie Ndiaye, who was born in Pithiviers, south of Paris, in 1967, to a French mother and a Senegalese father. Ndiaye is a major talent, who published her first novel aged seventeen and won the Prix Goncourt for her novel Trois femmes puissantes (Three Strong Women) in 2009. This work tells the stories of the lives of three women and explores ways in which they resist oppression and humiliation, and take action to live life on their own terms. (In some ways it anticipates structural and thematic aspects of Bernardine Evaristo's brilliant Booker Prize winner, Girl, Woman, Other, published in 2019.) When Trois femmes puissantes won the Goncourt, this was only the third time that France's most celebrated literary prize, established in 1903, had been won by a black writer. The first to do so was René Maran, born in Martinique to Guyanese parents, who won in 1921 with his first novel, Batouala; the second was the Martinican Patrick Chamoiseau for his novel Texaco in 1992.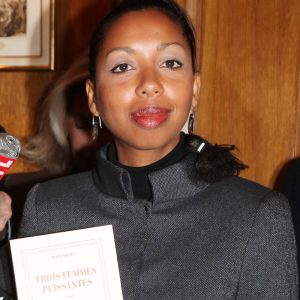 La Cheffe tells of the story of a working class woman who begins as a cook for a wealthy family in provincial France and ends up with a Michelin star to her name as chef-proprietor of a celebrated restaurant in Bordeaux. The travails of the protagonist, a gifted, modest, single-minded woman, are retrospectively recounted by a quasi-obsessive male narrator. It's a slow-moving tale, bleak in places, but the fraught gender dynamics are fascinating and the descriptions of food and the Cheffe's attitude to it are wonderful.
Though not a feature of La Cheffe, Ndiaye's relation to Senegal, the country of her father's birth, which was under French rule from the late 18th century until 1960, is an important dimension of her writing. And many contemporary black authors and writers of colour working in French engage with similar and related questions of race, identity and belonging, often intertwined with wider considerations of culture, politics and ideology. Our first-years study Petit pays, a 2016 novel by Rwandan-French rapper-writer Gaël Faye, which explores the formative years of a young boy born to a French ex-patriate father and Rwandan refugee mother in Burundi, in the period leading up to the Rwandan genocide of 1994. (Burundi and Rwanda were under German, then Belgian colonial rule between the late nineteenth century and the mid-twentieth century). This work, which won the 'Prix Goncourt des lycéens' has had huge appeal globally and been translated into over thirty languages.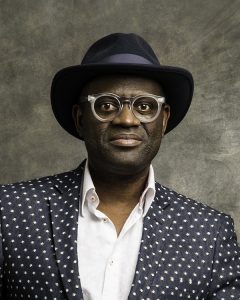 Another writer whose work repeatedly returns to the to-and-fro between France and a post-colonial 'elsewhere' is the French-Congolese novelist Alain Mabanckou. The Republic of Congo was a French sovereign state from 1880 until it gained independence in 1960. Mabanckou was born in Congo-Brazzaville in 1966, moved to France with a student scholarship in 1988 and published his first—simply breath-taking—novel Bleu-Blanc-Rouge in 1998. Mabanckou's novels are full of humour and playfulness that surround frank and often deeply insightful appraisals of human foibles and fallibility. Bleu-Blanc-Rouge confronts us with the brutal reality of Paris as experienced by an African immigrant, a reality that contrasts with the idealised, fantastical notion of France as a sort of modern, Western paradise, as symbolised by the harmonious trio of colours in the French flag. The novel repeatedly confronts us with the problematic nature of constructions of France from elsewhere and the skewed, often prejudiced, metropolitan conceptions of 'le pays', the distant, enigmatic, even threatening African places of origin of those who come to France with hopes of a better life. Mabanckou's works have been critically acclaimed and widely translated (see for instance the highly entertaining Verre cassé [Broken Glass, 2005], which takes us by the arm and hustles us into the chaotic, boozy world of the regulars at a Brazzaville bar). When he gave his inaugural lecture for the professorship to which he was elected at the Collège de France in 2016, Mabanckou's telling title was 'Lettres noires: des ténèbres à la lumière', part of which I have borrowed for this post. You can watch the lecture here: https://www.college-de-france.fr/site/alain-mabanckou/inaugural-lecture-2016-03-17-18h00.htm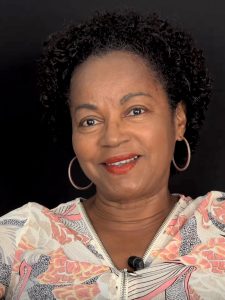 The last figure I would like to evoke is Gisèle Pineau, a prolific contemporary novelist born to Guadeloupian parents in Paris in 1956. Her novel of 1996, L'Exil selon Julia, is a fascinating autobiographical fiction, which renders the racism, prejudice and personal turmoil experienced by black citizens whose lives and identities are divided between France and a distant familial 'home', though the meaning and implications of this latter term are problematized throughout the book. The novel tells of a black Parisian-born girl and her Guadeloupian grandmother. Although both are French citizens (Guadeloupe has been ruled by the French since the eighteenth century) they both suffer abuse and struggle to be accepted. In Paris the young unnamed narrator isn't French enough in the eyes of those around her and her grandmother is quaint, an oddity embodying racial and cultural otherness who is repeatedly scorned or pushed to the side. Visiting Guadeloupe, however, the narrator finds that she isn't accepted there either: she is marked by her Parisian birth, too cosmopolitan, different. This summary may sound like Pineau's book is gloomy or maudlin, though it is anything but: it evokes questions of identity, exile, displacement and what it means have a home, but it does so in a sprightly way, brimming with the energy and candour of its young narrator. Its descriptions of Paris and the Antilles are riveting, its accounts of racism both stark and deeply moving. Guadeloupe, like Martinique, is an overseas French region in the Caribbean, just under two hundred kilometres north-west of Césaire's 'pays natal'. It may be more familiar to British eighteen-year-olds today than Martinique was to my younger self, since Guadeloupe is the setting for the popular TV series Death in Paradise, starring, successively, Ben Miller, Kris Marshall and Ardal O'Hanlon. Guadeloupe is a world apart from metropolitan Paris, yet it, unlike the UK, is a part of the EU, so the rum cocktails are bought with euros and the school curricula in these islands follow the same patterns as those delivered in Grenoble or Limoges. The history that lies beneath this phenomenon, however, is much more troubling than the light-hearted focus of much of that TV series. French colonial interests in Senegal and the Republic of Congo and their presence in Guadeloupe and Martinique, were historically tied at root to the seventeenth- and eighteenth-century trade in slaves and their exploitation in the colonies. A brief overview of this background can be found here: http://slaveryandremembrance.org/articles/article/?id=A0097.
It would be misleading and short-sighted to lump together the work of writers like Pineau, Ndiaye and Mabanckou, somehow homogenizing their literary output by dint of the colour of their skin. Each of them explores different themes, takes different approaches to genre, and makes more or less explicit engagement with the wider literary culture that precedes them and which they in turn have shaped. To read, in particular, black women writers of French like Ndiaye and Pineau affords us extremely valuable intersectional insights into the combinatory impacts of race, class, gender and sexuality in the societies they depict. Reading is a vitally important formative activity for all of us, no matter our age, race or sexual orientation. It shapes our thinking, permits us a form of dialogue with others, gets us closer to their feelings and their fears; and it can grant us a means of access to the past. Reading gives us an opportunity to learn about the experiences of those who live or have lived their lives differently to us, who may look or think differently. 'We cannot escape the legacies of the past', writes Reni Eddo Lodge, 'but we can use them to model our future.' And if we choose our reading with some thought for who and what lies behind the pages in our hands, we start to do our bit, we start to model that future in positive ways.