The following is a write up of Feock Parish's 'Thank You' community event in February, 2023, held at Trelissick Gardens and organised by the Feock HAIRE team as the research project nears its end in March. Read on to find out what's next for HAIRE in Feock.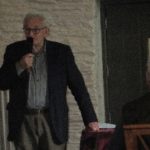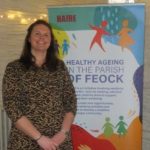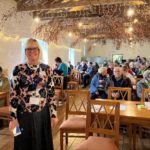 A gentle thrum of chatter fills the Barn at Trelissick, which is twinkling with fairly lights and winter sun streaming through the windows. More than sixty people – including volunteers who have been involved with the HAIRE project in various ways – have gathered to hear what Feock Parish Council's HAIRE team have to say about the project as it reaches its completion and to share in a discussion on its effect on the community and its legacy. They are also here for an almost-spring walk through the gardens with the National Trust team at this special estate on their doorstep.
The HAIRE team was led by Cllr Keith Hambly-Staite on behalf of Feock Parish Council and included Bex Rawbone, the Project Co-Ordinator and Cathy Whitmore, Project Administrator together with numerous volunteers who supported them. They all agree that HAIRE has impacted people's lives by enabling older people to be listened to, and by supporting and developing a community directory of activities and services, improving connection and participation across the parish. Bex Rawbone created activities and events with very limited money and resources throughout a challenging time. These have had the effect of helping to empower people and improve their wellbeing. One new service put in place as a result of Covid restrictions has become an innovation the community cannot do without in the world after the pandemic: a telephone helpline.
A significant outcome of the project was the way Feock Parish Council re-examined its role regarding community support. It has determined to use the evidence of the project to continue with the services developed during the project. Cathy's role as the helpful voice on the end of the telephone can't be underestimated; throughout lockdown, it was Cathy who coordinated shopping and prescription collection for residents unable to leave their homes, and later, when supporting those living alone, she was not only coordinating services but forging connections with lonely residents. Feedback has been overwhelmingly positive from both service users as well as providers:
"HAIRE activity has helped people socially…and given them a new lease of life."

"You have all done a wonderful job making things happen and providing a lot of help for a lot of people."

"From an NHS point of view we appreciated everything that the team did for our patients – collecting scripts; helping wellbeing."
Cathy's role will be made permanent after the pilot stage of Project HAIRE ends, as it's been recognised that people do so much better when they have a listening ear. Having time to talk and listen is one of the most important learning outcomes for Feock. When reflecting on the HAIRE outcomes, the team say it has engaged a whole new way of thinking about supporting the community – a two-way community engagement link whereby access to local information and resources is made easier. A community directory has been made available on a new community wellbeing website, MyFeock, and activities are advertised in numerous ways, using both traditional posters, word of mouth, and social media.
"It has connected people who would otherwise have stayed at home, often by themselves."

"Sense of belonging and participation"

"Made life more interesting!"
The HAIRE approach means that throughout the pilot phase, the team were attentive to community-level interests, which can change over time. Some innovations have a life-cycle that is shaped by a community's lived experiences: it's useful for a time, then it can evolve into something new. What HAIRE provided – and will continue to provide – is dialogue with communities and understanding so that changes can be made as and when they are appropriate. The continued involvement of local volunteers and community members is vital as HAIRE moves beyond its pilot stage. As one of the local NHS service providers made clear to the volunteers: "We could not do it without you."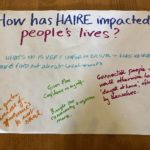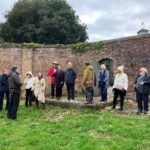 If you would like to know further information about Feock's wellbeing opportunities, help to support their services and to know what's happening in Feock Parish, contact:
Telephone: 01872 863 333 (Monday – Friday, 9.30-12 noon)
Email:
Facebook: MyFeock Wellbeing
Website: www.myfeock.co.uk