We recently held our third networking workshop on 'Disability in Namibia: Religious and Cultural Perspectives' at the Roof of Africa Hotel and Conference Centre in Windhoek. Across the three days of the event (21st to 23rd April 2021), attendees gathered from Organisations of Persons with Disabilities, churches, seminaries and universities for a network meeting, academic presentations, discussion sessions, and Contextual Bible Studies, and the opportunity to share a meal and informal conversation.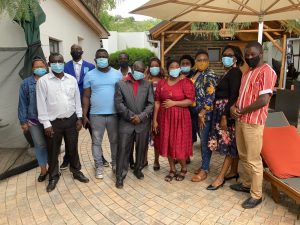 Participants joined us either in person or virtually from:
The National Federation of People with Disabilities in Namibia (Mr Daniel Trum, Mr Elia Shapwa, Mr David Hughes, Ms Elizabeth Namwandi)
The Namibia Albino Association (Elizabeth Namwandi)
The Namibian Organisation for Youth with Disabilities (Ms Suama Nangolo)
The Namibian Federation of the Visually Impaired (Mr Moses Nghipandulwa)
The National Association of Persons with Physical Disabilities (Mr Niklaus Nghumono)
The Namibian Association of Wheelchair Users (Mr Ebenhard Ripunda)
The University of Namibia (Professor Gert Van Rooy, Dr Cynthy Haihambo, Dr Elina Amadhila)
The University of Exeter (Professor Louise Lawrence, Dr Helen John)
The Evangelical Lutheran Church in Namibia (Reverend Thomas Uushona)
Paulinum Seminary (Dr Daniel Ndemuweda and 14 students)
Namibian Evangelical Theological Seminary (Mr Thomas Endjala and 14 students)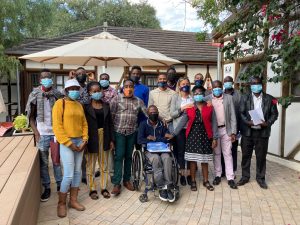 Thank you to all of those who took part and made it a great three days, full of productive discussion, insightful contextual biblical interpretation, and helpful suggestions for future collaboration and activities. Thank you also to Ms Aune Ashikuti and Ms Helena Nadala for providing Sign Language Interpretation for the event.
A summary of the discussions will follow shortly. For now, here is the workshop programme:
[pdf-embedder url="http://blogs.exeter.ac.uk/disabilitynamibia/files/2021/04/April-2021-Workshop-Programme.pdf" title="April 2021 Workshop Programme"]