Karen and Laura participated in some events to celebrate the Red River, which were organised and run by Dr John Wedgwood Clarke, Senior Lecturer in Creative Writing at the University of Exeter. The aim of his research project is to "explore how creative writing can transform our relationship to a polluted, post-industrial river through listening to the human and non-human voices that have shaped, and continue to shape, its course" (https://redriverpoetry.com/about),
The Red River is only 7.5 miles long, from its source near Bolenowe on the Carmenellis granite, flowing through post-industrial landscapes of Camborne and Tuckingmill, then it enters the Atlantic Ocean at Gwithian. It has a long history of tin mining and streaming; for many years the water was bright red in colour because it contained large quantities of mine wastes.
Our first visit was on a rainy day in October 2020 to Tolvaddon/Roscroggan. We saw the Red River passing through the former Roscroggan filtration beds/ponds. Evidence of the industrial past could be seen, but it was becoming hidden in the landscape covered up by the growth of plants. A closer look revealed there were areas with some stunning minerals flocculating around plant matter in the ponds, and environments where microorganisms are likely to be influencing the geochemistry and minerals present. Somewhere to come back to for future studies for sure! Not only this, these ponds are known to provide a habitat for rare damselflies and dragonflies, but we didn't see any during our visit perhaps due to the heavy rain.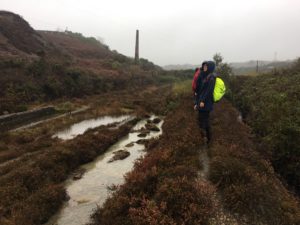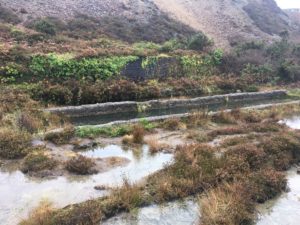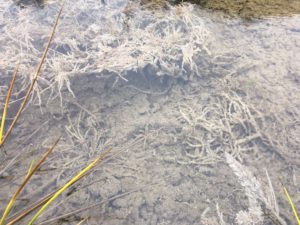 In Summer 2021 Karen was able to attend one of the Red River walks organised by John. In this image you can see him uncovering the red sediments deposited in the past when the river was polluted with mine wastes. Contrast this to the present day conditions where it has become naturally rehabilitated since mining ended in the 1990s.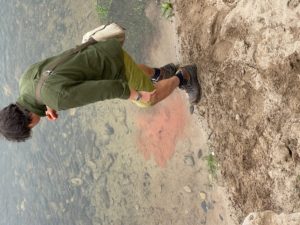 The final event "Red River Stannary: a day of poetry, talks, presentations and discussions about the Red River" was held at CAST in Helston in October 2021 (https://redriverpoetry.com/events). We were treated to readings of John's new poetic work, sound recordings by Rob Mackay, a video work by Naomi Frears and a dinner inspired by the Red River created by Mollie Goldstrom. Karen and Laura participated in a discussion about the science of the Red River and how mining can be sustainable in the future.