The Inner Rehabilitation Programme is an exciting project done in partnership between African Prisons Project, an organisation which develops leaders and makes prisons places of positive transformation, and the University of Exeter. We have the luxury of working with a great, committed team in the Kenyan Prison Services who help us make this project a success and continue to support its growth.
This programme is called Inner Rehabilitation for two reasons.
Firstly, it comprises of mindfulness techniques, tools and practices for rehabilitating the inner self. For that purpose, inmates learn how to deal mindfully with their 'mind' and manage their emotions.
Secondly, the rehabilitation is 'done' mostly by prisoners. A great proportion of the mindfulness training is undertaken by inmates, the Mindful Leaders – who then teach other inmates.
Our shared dream…
Our dream is that the Inner Rehabilitation project will transform the Kenyan Prison System (KPS) from the inside out. How?
Using two unique and innovative components. The project will train individuals across KPS to become mindful leaders of themselves and others.  Inmates and leaders within KPS together with the University of Exeter and the African Prisons Project are working together to make this dream of a Mindfulness Revolution a reality.
How it all began….
Read here for Background information prior to Inma visiting Kenya….
After the meetings and partnerships had been created, the first stage of the project involved training inmates, welfare officers and senior managers. Shortly after, a group of Mindful Leaders were trained and now form the hub of the Mindful Leaders Community. This Mindful Leader group and are now spreading this training across other inmates in the prison who it is hoped will in turn train others. The inmates are now taking the project forward with incredible passion.
The 'Mindfulness' project is spreading across many Institutions in Kenya, to date 16 separate Prisons are involved. Ideas are being put into action by many institutions to spread Mindfulness to Families, Friends and communities, it is an exciting time and continues to surprise all those involved.
Education and research…
The Mindfulness Revolution has two unique and innovative components (a) it uses mindfulness as a guiding living principle for the Mindful Leaders to act as a form of inner rehabilitation and (b) it fully taps into the collective power of the group and the social identity that is being created around mindfulness.
"This training has changed my life and that of my family too at home. How I wished this programe would spread wings and becomes a role model of this Nation."

— Opondo 'Stitches' Nandi – a life changed by this programme.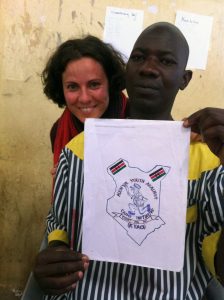 The Inner Rehabilitation project aims are:
Offer extended mindfulness training to prisoners and prison staff
Form a group of mindfulness trainers who will deliver further training within the prison
Facilitate mindful conversations to dilute social identity barriers between prisoners and prison staff.
In summary the training sessions cover the following topics:
Check ins and check outs – these practices are utilised to allow people to bring themselves to the group and complete the session at the end by sharing appropriate thoughts and feelings from the session.
Embodied practices – techniques such as breathing exercises and listening to music are included in the sessions to help both demonstrate that the sessions are something different and allow those taking part to have a full body experience of the workshop.
Inner communication – the sessions focus on providing individuals with an understanding of the importance of discovering one's communication with oneself and techniques of how to engage with that communication
Mindfulness – time is spent in each session working with the idea of mindfulness and exploring different techniques to include mindfulness in everyday life.
Resilience – the facilitators include a focus on the importance of resilience, thinking that blocks resilience and how to take personal responsibility for enhancing one's own resilience.
Emotions – building on the above work the sessions explore working with one's emotions to achieve one's best
The project is explained wonderfully in the 'Mindful Anthem' video below. This amazing anthem was created in September 2017 by Daddy Cool Erico, who was a Mindful Leader at Naivasha Main Prison. The video was made by Daddy Cool Erico, the Mindful Leaders, the Welfare Officers and Prison Staff who are working together to energetically drive the Mindful Revolution. This video fully encapsulates the passion, belief and drive the Mindful leaders (inmates) and staff have with this pioneering project. These change Agents are the face of rehabilitation and change.
Mindful Leader Inmates are now working towards ;in house' sustainability of the programme and are setting up enterprises to enable this to happen. Not only do they want to 'keep it going' they want to grow it, spread it out to many more prisons in Kenya and help it reach countries all over the world!
Pictures of their products can be seen on the gallery page. Details will follow about how you can purchase these items to support this enterprise and while doing so, change lives….
To learn more about the resources we use for the Mindfulness Programme- see resource page.