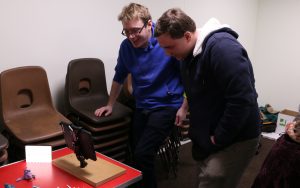 I tried to get people a bit excited about pixillation – using people and objects as the things to be animated – and I busted out the laptop to show some good examples. Shiny, a film made with clothes and
Fresh Guacamole
by animation legend PES among others.
While examples elicited a good response it didn't really fly. It could be partially because the space is rather limited in the room but there is always a bit of a barrier when trying to get people up and moving around, especially if at least one of those people is to be on camera!
Again Jess did some fantastically paced plasticine stop motion and really took on board any advice she was given.
I did break out the lego for this session in conjunction with Michel Gondry's video for the White Stripes'
Fell In Love With A Girl
as an example of a way it can be used. It didn't get used that way. Tom did some really excellent walks with a minifigre though. Several in fact. Each time improving on the last. I think he could do some really exciting stuff if he'd step outside his comfort zone. Though given the time animation takes it'd need to be more of a stroll than a step… The rest of the lego was used to great effect by other people in conjunction with plasticine.