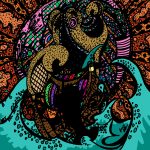 I am originally from the UK but currently live in Fort Wayne, Indiana, USA.
I'm 34.
I live with my Wife Kara who I met through Artists and Autism a facebook page dedicated to sharing Art work from people on the Spectrum which she runs.
I like to write and perform music and listen to music whilst I draw. My band is called R.dakota.
I like to distract myself whilst drawing to distance myself from the Outcome otherwise I am to anxious to let go and create the kind of Art that I do.
I love to draw with people to get them to let go in the way that I do as I only discovered that Art didn't need to be created with a purpose 4 years ago. My webpage is frankdraws.com.