In preparation for the CREATE phase of our project – the cross border development of social innovations for older people – our Research Fellow, Shuks Esmene, produced some guidance for partners around alternative methods of approaching idea generation and prioritisation. Below is an explanation of how the Q-Sort approach can be used and adapted in relation to HAIRE and its tools.
An adapted Q-Sort
The Q-Sort approach is part of a larger methodology (Q-Methodology1). Q-Sorts involve participants arranging a set of statements into a grid based on how much they agree and disagree with the statements. Therefore, the approach is more suited for situations where stakeholders can be presented with a set of statements. This approach may be useful for collating stakeholder opinions on what types of innovations would benefit the local area the most.
Note: If you wish to engage stakeholders in a more 'open' activity to generate ideas, a different spotlight method (to be released in the coming weeks) may be more appropriate.
i. The participants
Traditionally, individuals carry out Q-Sorts. However, for HAIRE, it may be more appropriate to arrange small groups (around 4 people in each group) to take part in and agree on a Q-Sort. For consistency, you may choose to group stakeholders with common characteristics or those that are working in a similar field to carry out Q-Sorts together.
ii. The statements
Q-Sorts are usually carried out using around 20 to 60 statements. Based on HAIRE's timeframes and the highly likely remote delivery of the CREATE sessions, it may be best to lead a Q-Sort with around 15-20 statements!
The statements should be easy to understand and, where possible, structured similarly. We recommend using no more than two sentences per statement. See below the examples from our imaginary pilot site, HAIREbridge:

The statements chosen for a Q-Sort can be led by the findings of a pilot site's draft Community Report (these were released at the end of April 2021). However, feasibility is important, e.g., if it is unlikely that you will be able to implement a transport-related innovation / change, we recommend that a transport-related statement is not included for your Q-Sort.
iii. The grid
The grid that is used to help participants sort the statements they are presented with is usually structured as shown below: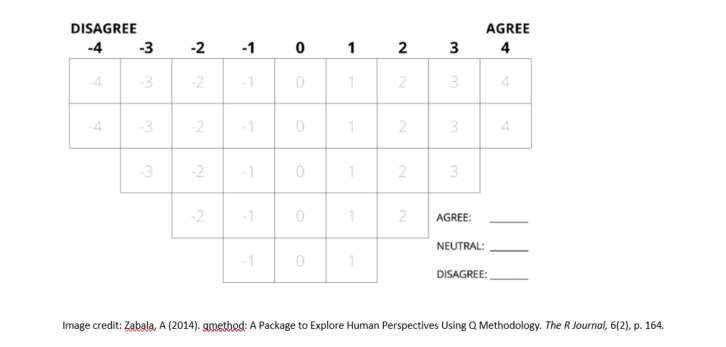 The grid shown above may be adapted to reflect the number of statements that are presented to the participants. However, the 'bell-shaped' structure (i.e., where there are fewer options at the extremes of the grid compared to the middle) is important. This structure enables participants to make a judgement call (usually through discussion) as to which statements they agree and disagree with the most.
Generally, statements grouped in the categories ranging from -4 to -2 in the example show above are classed as 'disagree'. The statements placed under -1, 0 and 1 are classed as neutral, and the statements placed under 2, 3 and 4 are classed as 'agree'. Once more, this is not a strict rule. You may wish to adapt the numbering in your grid to make the Q-Sort easier to conduct with the specific stakeholders you wish to engage.
Note: The section at the bottom right of the image included above, listing the 'Agree', 'Neutral' and 'Disagree' classifications, is used to collate the statement numbers that were assigned to the respective classifications. Remember to label / number the statements you present to participants clearly!
iv. Remote delivery
A remote delivery adaptation of a Q-sort can be relatively easy to implement. A facilitator can run a Q-sort with a small group (up to 4 participants) in a break-out session. A Q-sort grid can be shared on screen and statements (referred to by their numbers) can be collectively assigned to the appropriate places on the grid through discussion. The facilitator can write the relevant statement numbers into the relevant squares of the grid as the participants agree on their position. In such a circumstance, the statements can be sent to participants prior to the session.
1 Further Notes
The Q-Sort approach is part of a larger method known as Q-Methodology. The full method involves collating all scoring grids compiled by all participants. A statistical analysis of the results is then conducted to generate a 'best-fit' grid for groups of participants that share certain characteristics. Further, the full method dictates that individual participants produce their own scoring grids.
Given the purpose and timeframes of HAIRE, using only the Q-Sort component of the method can help facilitate group discussions and still generate an understanding of what types of innovations would be most valued in a pilot site. Overall, we hope to build CREATE approaches that are best suited to each pilot site. Each pilot site may choose to use a combination of different participatory tasks in their CREATE activities.