One of the objectives of our project is to extend the use of the HAIRE toolkit beyond the borders of our pilot areas. Kate's visit to Laakdal (one of our pilot sites) included training new volunteers in the village of Bergom in the neighbouring municipality of Herselt. This region is a good example of how the toolkit can be customised to suit the community it is used in. Assisted dying is legal in Belgium, and the toolkit needed to include training volunteers in conversations about end of life. This is the third of four short blogs about Kate's visit to Belgium in April, 2022.
On my second full day in Belgium, myself and the local project team (Katien, Sophie and Severine) train Jill Van der Auwera from the neighbouring municipality of Herselt, which comprises the villages of Herselt proper, Ramsel, Blauberg, Bergom and Varenwinkel. The sat nav takes me to an empty field about 5k from our meeting point. Thank goodness for Google Maps.  

We meet in a community hall in a small village surrounded by farmland and forests. This area feels more remote than Vorst, with more small, scattered settlements. The team in Laakdal – including the volunteers – will help to train professionals and volunteers in Herselt in the next few weeks. The issues that face their older community – especially the rising cost of living – are very familiar. We incorporate the insights from Laakdal's volunteers into the session, which really helps with the practical aspects of applying the HAIRE toolkit elsewhere. After our session, we walk through the quiet, neat village to the magnificent Catholic Church with its lofty, modern interior and high, vaulted wooden ceiling.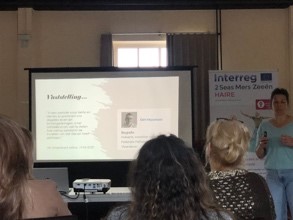 In the evening, I drive to Bergom to attend the training of volunteers in conversations about end of life. This is a particular focus for Herselt and an issue for which they have adapted their Guided Conversations. Although the training is in Flemish, I keep up with the slides by putting a few key phrases from each into Google Translate. The training covers why and how we should talk about and prepare for the end of life along with useful case studies. Assisted dying is legal in Belgium, so some of the training is about that. A new model of palliative care is presented which introduces elements of palliative care alongside continuing treatment in a more gradual way. This breaks down the cure/care dualism in which only when the search for a cure ends does palliative care begins. Instead, this model seeks to open up the conversation about the journey towards the end of life more gradually and in a supportive and empathic way. It is a moving and very productive session.