Portrait of a Working Mother (Exeter Edition)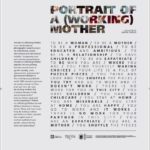 Welcome to the Exeter Edition of the touring photographing exhibition Portrait of a (Working) Mother, co-created and curated by Lithuanian scholar Dr Eglė Kačkutė (University of Vilnius) and freelance photographer Marina Cavazza. Previous versions of Portrait have included a book (2019) and a touring exhibition of photographs and testimonies,  and Dr Kackute. Portrait has previously been reviewed on the Make Mothers Matter website, and the exhibition has recently toured Geneva and Dublin (June 2018).
The exhibition showcases a set of photographic and documentary case studies exploring the day-to-day routines, life projects and survival strategies of working mothers (as well as some fathers) who leave their home countries. It emphasizes the extreme mobility  required by the increasingly uncertain job market, and how the demands of the latter impact upon both family and workplace. The Exeter Edition does not focus exclusively on migrant mothers, although many of the parents involved have moved to the Exeter area for work or study.
Portrait of a (Working) Mother Exeter Edition is on display to the public at the following venues between the dates below: May 3rd– May 24th 2022
The Forum Street, main campus, University of Exeter, EX4 4SZ
open every day 8am-8pm
and also
June 14th – Aug 5th 2022
The Devon and Exeter Institution, 7 Cathedral Close, Exeter, EX1 1EZ
open Tues-Fri 10am-5pm, Sat 10am-4pm, please ring doorbell for entry