Soviet Milk
Soviet Milk is an online seminar celebrating, and exploring, the symbolism of breastfeeding in literature – not just in the former Soviet nations, but internationally. We will also discuss the importance of preserving breastfeeding as a cultural practice in order to preserve bonds between different generations of mothers and daughters.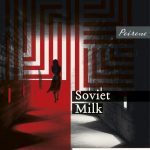 Our guest of honour is award-winning Latvian author, Nora Ikstena, whose 2015 novel Mātes piens (published by Peirene Press in the UK as Soviet Milk) is about exactly this: three generations of Latvian women connected by mothers' milk. Joining us in this discussion will be B.J. Epstein (University of East Anglia), an expert on the symbolism of breastfeeding in literature; other speakers TBC.
All welcome; registration required. A link will be provided one month in advance.