Thursday 20th June marked the fourth screening of our Exploring Diagnosis Films. This time we were hosted by Calling the Shots (CTS), the Film Production Company involved in the making of the #ExDxFilms. The venue was Spike Island in Bristol, home to CTS.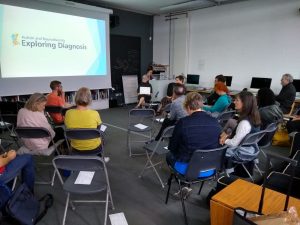 We really enjoyed the insightful discussion that interspersed and followed the films. It is important to us that our films have impact so we are particularly please when we receive feedback indicating that the films do appear to be stimulating people to consider various aspects of autism and neurodiversity.
So far, we have two more screening events lined up for this summer (information to follow) and hope to also have the Films available as Open Access online before the Autumn. Watch this space!