This last instalment of our PI Kate's travel blog covers her last day in Belgium in April 2022, the final stop of a 'grand tour' in which Kate met members of the community through various meetings, lunches and gatherings. Sadly, the popular singer Kate mentions below – Juul Kabas – has since died unexpectedly. You can read a tribute to Juul here. 
On Wednesday it's time to meet the Mayor of Laakdal, Tine Gielis, and Alderman Gerda Broeckx. Gerda has specific oversight of HAIRE and is keen to hear about progress and successes, of which there are many. We meet for lunch with a group of older people who gather regularly for a subsidised meal and conversation. The atmosphere is very convivial.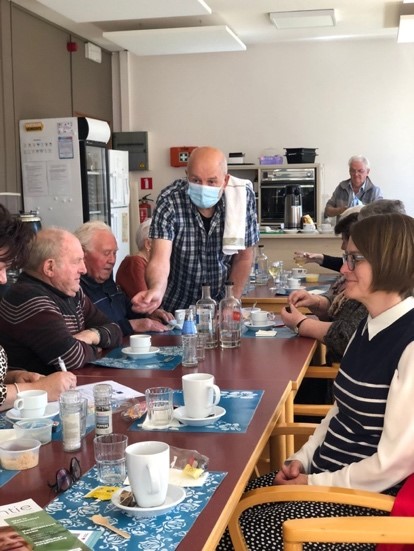 The Mayor, Alderman, Laakdal Team and I discuss the familiar issues of community engagement, encouraging younger volunteers and making sure that everyone's voice is heard. We also explore how new models of service design and delivery can bring together the public sector and the local community groups and volunteers. I also meet Freddie, Laakdal's Super Volunteer, who does a great deal in his community. He is part of HAIRE and has conducted several Guided Conversations. Stalwarts like Freddie can be found in every community, and are greatly valued.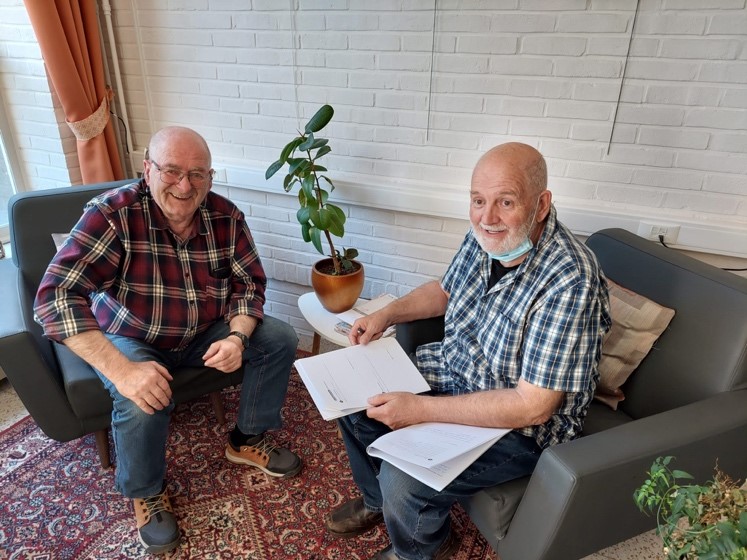 My last day in Belgium sees me attending the Seniors' Party, a twice-yearly event which, pre-Covid, used to attract 600 older people from the municipality for entertainment, drinks and a sandwich lunch.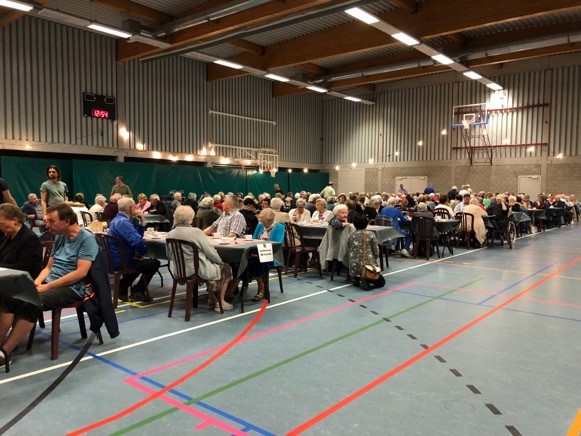 About 250 people attend this lunch, seated at long tables set out in a sports hall decorated with fairy lights around the walls. There is a stage, lighting and an impressive sound system. Alderman Gerda Broeckx makes a speech about HAIRE. The entertainment is provided by Juul Kabas who sings popular sing-along classics and gets everyone clapping. Freddie is also volunteering at this event and tells me that Juul was badly affected during lock down, unable to do shows. Juul signs off his set with the phrase "If you lose your smile, you lose your heart". The Seniors' Party was a model of community action, with everyone working hard to create a joyous atmosphere.
I thoroughly enjoyed my trip to East Sussex and Belgium. I met people who I have only previously met over Teams, and I relished seeing them in action at the various events I attended. Everyone worked hard to make me welcome, which I really appreciated. There's amazing work going on in our pilot sites and I am really looking forward to a few more trips before the project ends in March 2023. A huge THANK YOU to everyone involved in planning and making this trip a reality.