The HAIRE team at Exeter is pleased to have an MA Translation Studies intern, Valentine Naude, on board for a few months. This is the first of our dual language blogs. Welcome, Valentine!
Il y a un an de cela, le 10 février 2020, une toute nouvelle équipe s'est réunie autour d'un repas dans un petit bistrot de Lille pour célébrer le lancement du projet HAIRE, « bien vieillir grâce à l'innovation en Europe rurale » [en anglais « Healthy Aging through Innovation in Rural Europe »]. Voilà qui semble presque décadent, désormais : personne n'aurait pu prédire l'année qui suivrait et les difficultés que nous rencontrerions tous dans les affres d'une pandémie mondiale.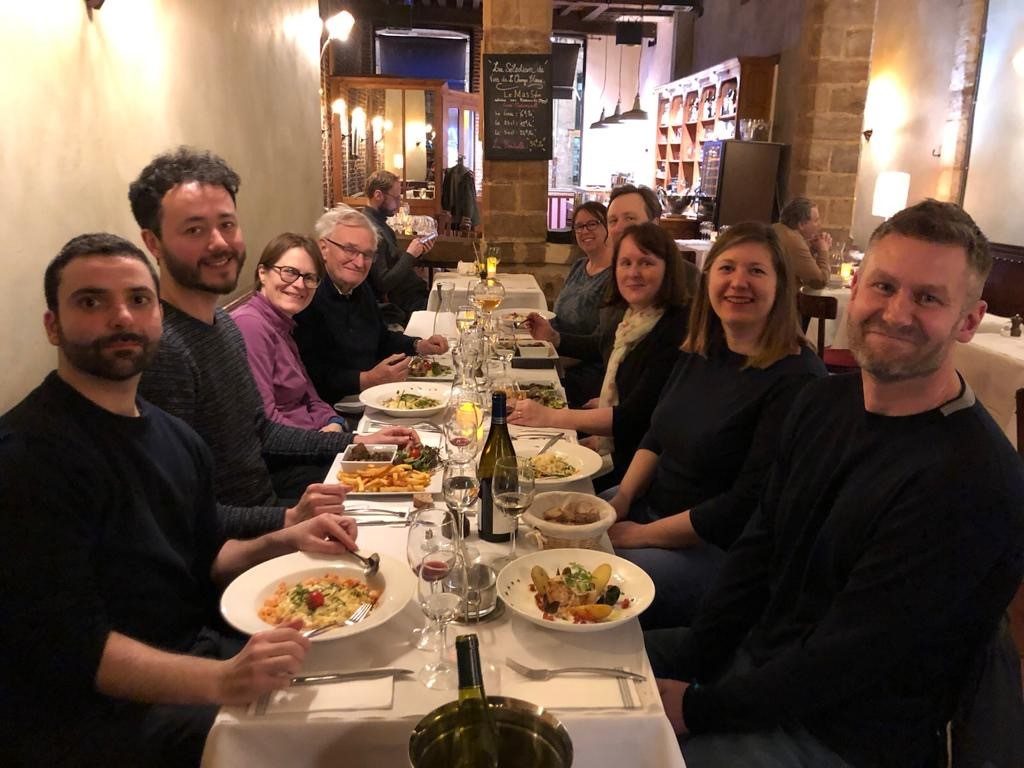 Le Covid-19 a beaucoup affecté notre groupe cible, exacerbant les problèmes que le projet HAIRE était précisément destiné à résoudre. Non seulement l'accès aux soins (santé et bien-être) est devenu plus difficile, mais notre groupe cible, déjà vulnérable, a encore plus souffert de la solitude et de l'isolation dans bien des cas. Les entretiens en face à face (les « Conversations Guidées » du projet HAIRE) n'ont pas pu se dérouler comme prévu. Alors que toute l'Europe s'est confinée, il a fallu trouver en toute urgence des solutions alternatives pour communiquer avec les personnes âgées.
Le premier défi a été de mettre en place une plateforme d'interprétation simultanée à distance, afin de faciliter la communication virtuelle avec nos partenaires européens. Grâce à nos efforts communs, nous avons pu adapter les Conversations Guidées – l'outil qui nous permet d'identifier les besoins et les désirs des personnes âgées – pour qu'elles soient menées en ligne ou par téléphone, selon les préférences du participant et du bénévole. Elles ont aussi et surtout évolué en fonction de la situation propre à chaque localité. Adaptée au milieu et axée sur la personne, l'approche adoptée par le projet HAIRE a été (et continue d'être) modulée avec soin à chaque étape d'adaptation de la « boîte à outils », depuis la planification du contenu jusqu'à son exécution. Une des caractéristiques de la boîte à outils consiste à utiliser une image propre à la localité du participant, de façon à l'aider à formuler ses besoins et ses désirs vis-à-vis d'espaces autant intérieurs qu'extérieurs. Tous les partenaires du projet ont contribué à ce travail de cocréation et ont été amenés à mieux connaître les localités de chacun.
Rien ne témoigne plus de leur engagement que l'implication indéfectible dont ils ont tous fait preuve au cours de l'année 2020 en dépit des restrictions relatives au Covid-19 dans leurs pays respectifs. A l'occasion d'un « Festival Bien Vieillir » [en anglais « Ageing Well Festival »], le conseil général du Sussex de l'Est et Rother Voluntary Action [organisme bénévole de la même région] ont animé de multiples dialogues communautaires en ligne pour le projet HAIRE, auxquels d'autres partenaires ont également assisté.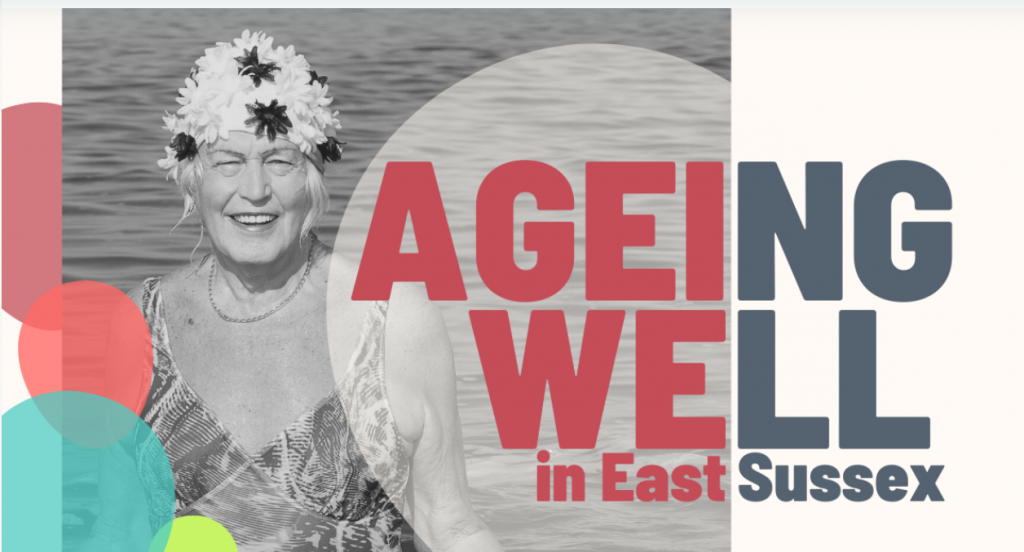 Tous nos partenaires n'ont cessé de donner d'eux-mêmes, et ce malgré la nécessité d'adapter leur approche aux autres actions entreprises par le projet HAIRE et aux collectes de données, par exemple « l'Analyse du Quartier » et les rapports des collectivités. (Ces composants de la boîte à outils permettent de mesurer et d'identifier le réseau social et les connexions de chaque individu, ainsi que de déterminer les opportunités – par exemple les activités ou les services – auxquelles les participants ont accès dans chaque communauté.) Là encore, les partenaires se sont entraidés pour trouver des solutions alternatives et résoudre mutuellement les problèmes intervenus dans la collecte des données.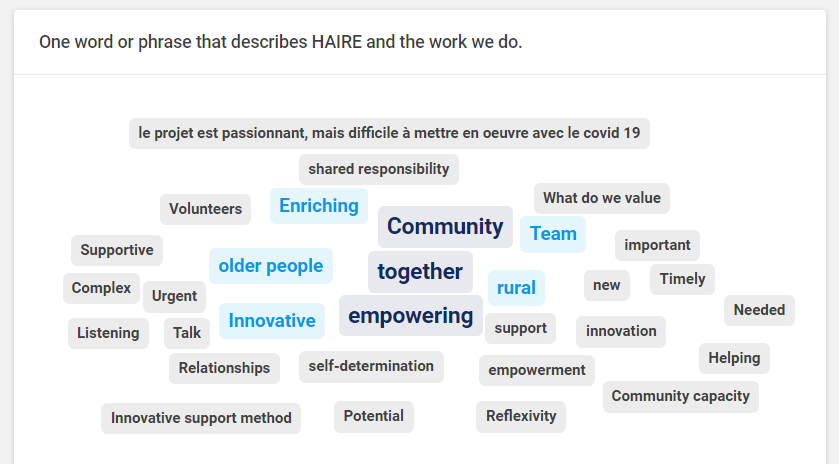 Lors de notre dernière réunion entre partenaires, nous avons demandé à chacun de décrire le travail réalisé par le projet HAIRE en un mot, par le biais de l'application web Slido. La bulle de mots a peu à peu pris forme et trois mots se sont démarqués : Autonomiser [en anglais « empowering »] Communauté Ensemble. A la lumière de cela, on ne s'étonnera pas de voir que nous avons dépassé notre objectif de recrutement d'Aidants en dépit des confinements et d'un contact présentiel limité avec les personnes âgées. Les Aidants sont les bénévoles et les professionnels de la santé qui ont été formés pour utiliser la boite à outils du projet HAIRE et diriger des entretiens avec les personnes âgées. Au départ, notre objectif de recrutement était de 80 Aidants ; nous en avons maintenant 147, dont 115 qui ont reçu leur formation. Bien que nous ayons été retardés, nous sommes en voie d'atteindre un total de 600 participants aux Conversations Guidées : nous avons recruté 282 participants parmi lesquels 126 ont déjà commencé leurs conversations.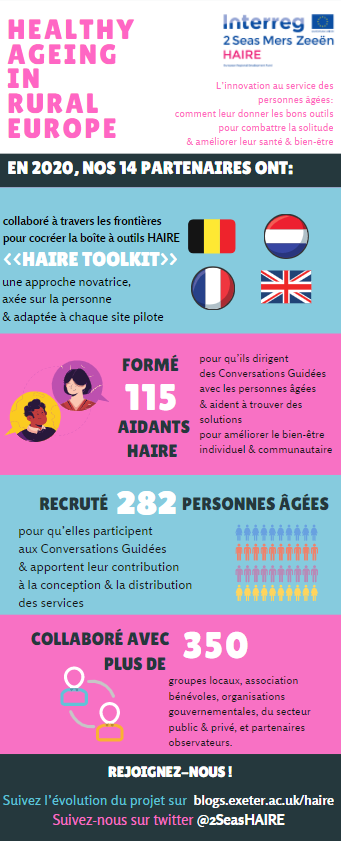 Dans sa conception, le projet HAIRE prend en compte ses futurs utilisateurs ainsi que le souci de la durabilité. Nos partenaires sont déjà en train de présenter le projet à de potentiels futurs utilisateurs de la boite à outils. Au Royaume-Uni, Devon Mind [association caritative axée sur la santé mentale] a présenté le projet HAIRE et son équipe à CoLab Exeter, un centre de cotravail intersectoriel et pluri-institutions sous le toit duquel environ 35 différents projets et services travaillent ensemble. Des échanges ont également eu lieu entre le conseil général du Sussex, Rother Voluntary Action et le conseil d'arrondissement de Hastings. D'un bout à l'autre de la région des 2Mers, nos partenaires sont en conversation avec les services sociaux des autorités locales ; en Belgique, des échanges ont eu lieu avec la Province d'Anvers et LiCalab (« Living and Care Lab »). En France, l'Université d'Artois a mis en place un partenariat – baptisé le « Cluster Senior » – entre plus de 30 organismes de la région; nos partenaires français se sont aussi associés au projet Interreg TICC, dirigé par Buurtzorg. Dans tous les pays, les sites pilotes maintiennent un contact régulier avec leur partenaire observateur. Au total, plus de 350 groupes locaux, groupes de bénévoles et une grande variété d'organismes ont contribué au partenariat HAIRE.
La transférabilité du projet HAIRE n'est pas seulement géographique, mais franchit aussi les frontières de multiples secteurs jusqu'à toucher des cibles inattendues. En effet, nous estimons que notre approche axée sur la personne pourrait être appliquée de manière plus large, par exemple pour résoudre le problème des sans-abris ou de l'addiction à la drogue. Pour de nombreuses communautés, il se pourrait que l'année 2021 et les suivantes représentent un chemin parsemé d'embuches. Nous ne doutons pas que le projet HAIRE relèvera le défi, et, loin de se contenter de cela, qu'il remettra à ces communautés les solutions et les outils qui leur permettront de s'épanouir au-delà de la pandémie.